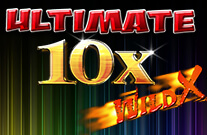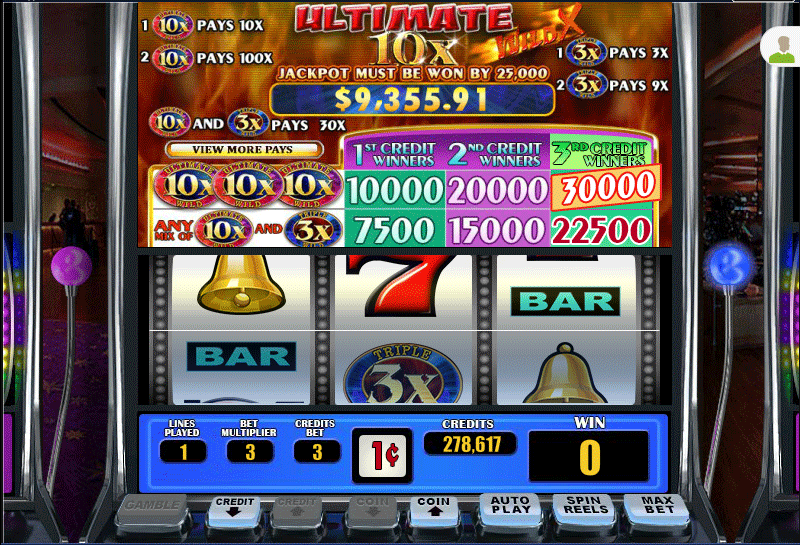 Game Info
| | |
| --- | --- |
| Reels | 3 |
| Paylines | 1 |
| Min Coin | 0.01 |
| Max Coin | 5.00 |
| Max Bet | 15.00 |
| Jackpot | Progressive |
| Wild Symbol | 10x & 3x |
| Scatter Symbol | N/A |
| Free Spins | N/A |
| Bonus Feature | N/A |
| Payout % | 87.05% |
Ultimate 10x Slots Has a Jackpot That's Awarded Before Reaching $25,000
Ultimate 10x Wild slots is a 3 reel video slot with a progressive jackpot. The jackpot is awarded randomly, but it's always awarded before reaching $25,000. This is part of the WGS Wild X line of video slots. These Wild X's award players in huge ways.
Increase Prizes With the Wild 3x and 10x Symbols
Most of the symbols in Ultimate 10x are symbols you'd expect to see in a classic slot game. There are bars, bells, and more. The 3x and 10x symbols are worth far more. They pay as follows based on whether you've bet one, two, or three credits, respectively.
Three 10x wilds on the line – 10000, 20000, or 30000 coins
A mix of 3x and 10x wilds on the line – 7500, 15000, or 22500 coins
Three 3x wilds on the line – 5000, 10000, or 15000 coins
The remaining symbols and prizes are:
Three 7s – 50, 100, or 150 coins
Three bells – 25, 50, or 75 coins
Three dollar signs – 15, 30, or 45 coins
Three bars – 10, 20, or 30 coins
Three cherries – 8, 16, or 24 coins
Two cherries – 5, 10, or 15 coins
One cherry – 2, 4, or 6 coins
Any of those prizes can be increased with the help of the 3x or 10x wilds. If you get a 3x wild and two other matching symbols, the normal payout is tripled. If you have two 3x wilds and a symbol, the prize is multiplied by 9x. With the 25/50/75 coin prize offered with the bell, they would increase to 75/150/225 coins with one 3x wild and two bells. Two 3x wilds and one bell would pay 225/450/675 coins.
The 10x works the same way. When it's paired with two matching symbols, multiply the normal prize by 10x. If you have two 10x wilds and a symbol, the prize you'd normally win is multiplied by 100x. If you got one 10x and two bells, prizes would increase to 250/500/750 coins. Two wild 10x symbols and one bell would increase it to 2500/5000/7500 coins.
If you happen to get a symbol with a 10x wild and 3x wild, you'd multiply the prize by 30x. As an example, a 10x wild, 3x wild, and bell would take the normal 25/50/75 coin prize and increase it to 750/1500/2250 coins.
Betting Options
You don't have to spend a lot to win. There's only one line, so that's automatically set for you. Bet up to three credits on that line. Coin values start a penny, which means you could bet three credits and spin the reels for as little as 3 cents per spin.
The maximum possible wager is $15. A bet of all three credits and the maximum coin value of $5 leads you to this amount. It's not a lot to risk considering you could win up to $25,000 at any time.
Sign up at a leading casino offering WGS games and enjoy this progressive jackpot slot game. It doesn't take a lot to understand the controls. In just a few spins, you could be the next name on the casino's list of jackpot winners. Try it and see what happens.